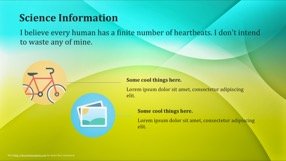 If you're seeking for fitness Keynote theme, then this Keynote is for you! A nice choice for presentations on sports and health demonstrations. Meditation topics on self reflection and mind contemplation is a viable option too.
This Keynote template features nice, colorful background, which is good for fresh and vibrant demonstrations.
This Apple Keynote template is designed with style and is easy to customize on your Mac. It will help you to prepare a professional presentation instantly.
Size: 16:9 | Font: Cambria | Slides: 10 | PowerPoint Version Here