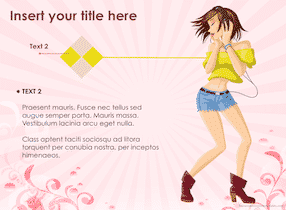 If you are in need of Pink Keynote slideshow, then this template is perfect fit for you! This free template may be used for a wide range of presentations about fashion, sweetness, childhood or any other feminine topic. Romantic and charming topics will perfectly fit here too!
Pink is the color commonly associated with politeness and charm. An elegant pink background will set your audience mind into a soft and sweet mood.
There are eight presentation slides which include a number of color variations integrated and sophisticated display options. You can quickly modify the slides and add your own visuals easily.
Just adapt this pink theme to make your Apple Keynote presentation more attractive.
Size: 1024 x 768 | Font: Century Gothic | Slides: 8 | PowerPoint Version Here