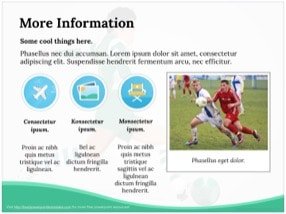 This is another amazing sports theme – soccer Keynote template. A nice choice for presentations on football or sports topics. If you are one of million fans and love playing soccer, you will like this template too.
You can see a soccer player dribbling a ball and preparing to shoot it. Green color ads the feeling of a football pitch.
Just click "download now" button and enjoy this free soccer theme.
Size: 4:3 | Font: Lora | Slides: 10 | PowerPoint Version Here